Sony PS 3
If you're lucky enough to score a PS3, make sure that you come home with all of the cables you'll need. To fully experience the console's graphics capabilities--that is, to play supported games or to watch Blu-ray movies in 1080p high-definition--you'll have to purchase your own HDMI cable (and own an HDCP-compliant 1080p television). Two extras that you might consider buying are Sony's proprietary component video output cable and the optical digital audio cable required for 7.1-channel audio. For optimum Blu-ray or DVD movie playback, you could also spring for the optional $25 remote control.
The standard package includes basic cords: a USB mini cable for the bundled Bluetooth wireless controller, an ethernet cable, a multi audio/video cable with composite connections, and an AC power cord (the PS3 uses a standard cord, unlike the external power brick used by the Wii and the Xbox 360).
Most new PS3 owners will fire up the console without looking at the manual--and they probably won't run into any trouble. It's just that easy to hook up. In case you feel like doing some tech reading before you go shopping, GamePro has scanned the PS3 manual to make it available for the geeky perusal of all.
Once turned on, the PS3 will ask you to choose a language and a time zone, and set the time/date. You then create a user account, sign in, and are presented with a navigation interface that Sony calls the Xross Media Bar (XMB), which closely resembles the interface employed by Sony's PlayStation Portable (PSP) handheld.
The PlayStation 3 comes in two versions.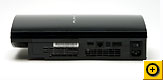 The PlayStation 3 comes in two versions. The $599 model has a 60GB hard disk; built-in 802.11b/g wireless networking; and MemoryStick, SD, and CompactFlash slots. The $499 unit omits Wi-Fi capability and the media card slots, and has a 20GB drive. You can replace the hard drive on either version, and the supplied manual explains how to swap in your own 2.5-inch, serial ATA drive.GamePro has posted scans of these instructions.
The differences between the two PlayStation versions end there; both provide a Blu-ray slot drive, HDMI-output, gigabit networking, four USB 2.0 ports, and built-in Bluetooth 2.0 support.
At the heart of the PlayStation 3 lies a CPU that'll impress even the most hardcore PC gamer. This powerful, multicore Cell processor, jointly developed by Sony, Toshiba, and IBM, runs at 3.2 GHz. An RSX Reality Synthesizer graphics engine, based on NVidia's G70 architecture, delivers the graphics. Working alongside these chips are 256MB of high-performance XDR main memory (based on Rambus RDRAM) and 256MB of GDDR3 video memory.
---
USA Bestsellers For Playstation 3
In association with Amazon.com & DirectSourceShopping.com